West Tamar Program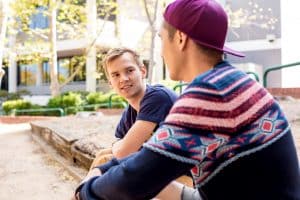 Who?
The West Tamar Program is for 12 – 25 year olds who:
Live in, or attend school in, the West Tamar region – Legana, Exeter, Beaconsfield and surrounding areas
Have been identified by self, family or carer, school support, GP or other service as benefiting from support from Cornerstone Youth Services.
Could benefit from focussed therapeutic intervention, one on one support, and / or case management
Could benefit from involvement with a group or workshop
Where?
Outreach to West Tamar and surrounding areas – appointments in the home, at school, in the community, or with a another service provider
The West Tamar Program can support students whom attend Riverside Primary or Riverside High School; however these students must reside in Legana, Exeter, Beaconsfield or surrounding areas.
Why?
The primary aim of the West Tamar Program is to help young people identify their mental health concerns and explore strategies to manage these.
How?
A Mental Health Clinician will provide counselling, case management or groups / workshops may be developed based on presenting issues of young people in the community.
The West Tamar Program is provided at no cost.
Referral
Self-referrals are welcome
GPs, school, parents and family, other services and supports can also refer here:
Please contact us for more information about the West Tamar Program.
The West Tamar Program is funded by the Irene Phelps Charitable Trust.